Facebook Marketing Services,

That Brings Real Results. And Growth.

2.9 Billion Facebook Users. Target The Right Audience.

Hire the #1 Facebook advertising agency and Facebook marketing company for your business. Increase your Facebook leads and conversions with our team of experts on the go. Witness real growth while we do all the work!
Everything You Need On Facebook Starts With Pentra Facebook Marketing Services Company
Pentra Facebook advertising agency has been around for more than a decade now helping businesses unleash the fullest potential of their social media pages. Facebook, being one of the most important social media pages, we convert it into a lead powerhouse for your business.At Pentra, we provide end-to-end Facebook marketing and advertising services for your business. We have a team of social media experts who have years of experience in helping businesses generate leads and conversions from social media. Working for all kinds of industries like SaaS, eCommerce and Service-based, we know what it takes to drive leads and conversions no matter what the nature of your business is.
Our Facebook ad campaigns make sure to enhance the visibility of your business, drive traffic to your website, influence people and finally convert them into leads and conversions – every single time.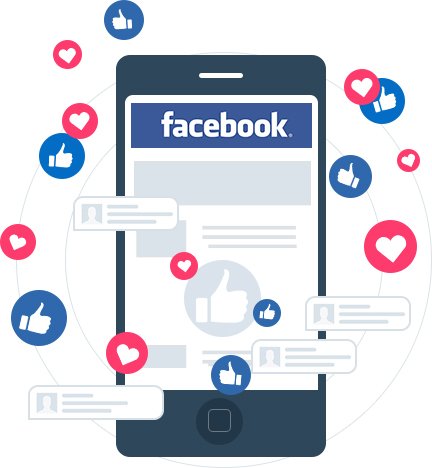 What is Our Facebook Marketing Strategy?
Research
This is where it all begins. We conduct in-depth research to understand the nature of our business. We take a look into your competitor ads, find out bid prices and understand the basics.
Plan
Based on the research and the data we have gathered, we come up with a rigid Facebook advertising plan for your business that's both cost-effective and offers promising results.
Implement
We implement the plan and monitor it closely. We make necessary tweaks and optimization to the campaign to make sure the results are optimal and as planned.
Result
At the end of the campaign, we make sure that the purpose of the campaign is met – whether it be to increase awareness, or increase sign-ups or conversions, we make sure it happens.
Get a Free Quote
Our Facebook Marketing Services. For Your Business Growth.
Penta SEO agencies is one of the best Facebook advertising and marketing agencies that offer end-to-end facebook growth solutions. Here are some of the services we offer to increase your Facebook growth.
Audience Identification
Identify potential customers for your business with our audience identification services. Engage with prospects every single day.
Strategy
Devise the perfect marketing and advertising strategy for your Facebook page with our social media experts. Increase leads and conversions 10x.

Paid Ads
Run results-driven paid ads for your business to increase visibility, drive traffic and increase conversions on the go.
Analytics
In-depth ad performance analytics, post engagement data, page insights, etc are delivered to you in a comprehensive manner.
Facebook Marketing Services. To Boost Your Conversion Rate.
Facebook is one of the most important social media platforms and has over 2.5 billion monthly active users. And leveraging the platform to boost your growth can be highly beneficial. Effective Facebook marketing services can lead to increased visibility and traffic leading to higher leads and conversions.
Pentra SEO agencies provide the best Facebook marketing services, converting your Facebook page to your own lead generation powerhouse.
Advantages of Facebook Marketing Services
Facebook advertising and marketing can give your business unlimited benefits. Businesses that have invested in Facebook marketing and advertising were able to increase their leads and revenue to a great extent. In fact, more than 90 million small businesses have Facebook as a part of their marketing strategy.
Investing in Facebook advertising and marketing will help your business,
– Reach and target a wide range of niche-related audiences.
– Multiple types of engagement with funnel targeting strategy.
– Compete with competitors and with better marketing strategies, convert their audience to your customers.
– Increase your website visibility and drive direct traffic to your website.
– Increase leads, and conversions for your website leading to increased sales & revenue.
Why Choose Pentra as Your Facebook Marketing Agency?
Pentra is one of the best Facebook Marketing and Advertising agencies around with over 10+ years of experience. With experience in running Facebook ad campaigns for all types of businesses, we have a team of experts who knows the in and out of Facebook advertising and marketing.
We come up with a robust strategy for your business based on competitor & industry research, making sure your business gets what it deserves!
We have a team of experts who take care of end-to-end Facebook marketing and advertising process. All you have to do is, sit back, relax and watch your business grow with Facebook as one of the predominant marketing channels.
Here's What
Our Clients

Say About Us

Our clients love us for who we are and what do for them. Here are a couple of words from our clients.
Pentra is one of the best SEO agencies around. Partnering with Pentra SEO Agency helped us witness significant improvements in our organic search, unique visitors and more. We personally recommend Pentra SEO agency to anyone who is looking forward to improve their online presence.
Pentra SEO Agency gave us everything we needed - right from improved organic traffic to a better online presence, we were able to witness significant results! Great people with expert knowledge!

Wayne Silviia
Director, My Business Digest
We recently partnered with Pentra SEO Agency for organic improvement and SEO services for our website and I must say, the results are beyond what we expected. I thank Pentra SEO Agency for the great work and would personally recommend them for anyone looking for SEO-related services.

William
Chief Marketing Officer, Spacmine
Frequently Asked Questions
Facebook marketing is the process of using your Facebook page to create awareness about your brand. A Facebook page acts as an effective communication tool between your brand and its audiences. With efficient marketing strategies, you can use your Facebook page to grow your business seamlessly.
Facebook is a powerful social media platform and is used by more than two billion users every month. In fact, more than 90 million businesses use Facebook for their marketing purposes. Investing in Facebook marketing can help businesses get increased visibility and traffic leading to conversions and sales.
Most of the time, the cost of Facebook marketing and advertising depends on your goals and your business size. However, at Pentra SEO agencies, we offer cost-efficient Facebook marketing services.
Facebook has over 2 billion users making it one of the most powerful social media platforms. Running ad campaigns on such a platform will help you to identify niche audiences with ease and convert them into prospects and sign-ups.
Facebook ads can be classified based on the purpose of the ads - awareness, consideration and conversion.
Effective Facebook marketing and advertising can give a lot of benefits to your business. And it's always best to hire a Facebook marketing agency to handle it in order to witness short-term growth and results.
Read Our Latest News
Stay updated with the latest marketing news. Read everything that's happening in the digital space on the go in one place.
We Make SEO Happen. Achieve Your Digital Success With Pentra SEO Services!
Get started on your SEO journey with the best SEO Services Agency. You're just one step away from witnessing better rankings, increased conversions and maximizing your revenue on the go!