Real Estate
SEO Services

- Get More Traffic and Leads for Your Website

Real estate SEO services are a crucial aspect of any successful online marketing strategy. By implementing effective SEO techniques, your real estate website can rank higher in search engine results pages, leading to increased traffic and more potential leads. Reach us now!
If you're reading this, it's no surprise that you're looking for an agency that can help you improve your real estate business. Nowadays, the victory of any business online is decided by its digital presence. Regardless of whether it's a real estate sector or any type of business, maintaining an organic digital presence will be a show stopper for your business.
To succeed, you must partner with a top agency that provides SEO for real estate business.  And Pentra seems to be the best agency in the business to provide real estate SEO services
Prior to discussing how Pentra can help you with the SEO for real estate business, let's first define real estate SEO services.
By investing in real estate SEO services, you can gain online visibility and attract more targeted traffic to your website. Ultimately increase your chances of converting those visitors into paying customers for your real estate business.
The first step in achieving this is to optimize your website for search engines. Conduct thorough keyword research to identify the most relevant and highly searched terms related to your business. 
From there, you can optimize your website's content, meta tags, and other on-page elements to ensure that search engines can easily crawl and index your site. Additionally, off-page optimization tactics such as building high-quality backlinks can further improve your website's search engine ranking and visibility. 
Pentra real estate SEO services agency has been in business for a long time and has a squad of SEO professionals who understand SEO and provide dedicated real estate SEO services for your company after assessing your specifications and objectives.
We begin with in-depth research, analyzing what requires attention and developing a solid plan for doing so. We allocate SEO specialists to your company to execute the strategic plan. With careful implementation and execution, you'll witness massive traffic, leads and conversions as an end result, thanks to our expert real estate SEO services!
SEO Services for Real estate
Pentra SEO Agency is a top real estate SEO marketing agency that assists companies in prospering on the go. Over the years, we have assisted numerous companies in driving sustainable growth. And one of our areas of expertise is SEO for real estate companies. We offer a variety of real estate SEO services to help real estate companies increase their natural traffic and search engine rankings. Pentra real estate SEO services agency offers the following SEO services for real estate enterprises.
Know How Pentra Real Estate SEO Services Can Help You!

Schedule an online demo call to speak with one of our consultants to understand how Pentra real estate SEO agency can help your real estate business grow.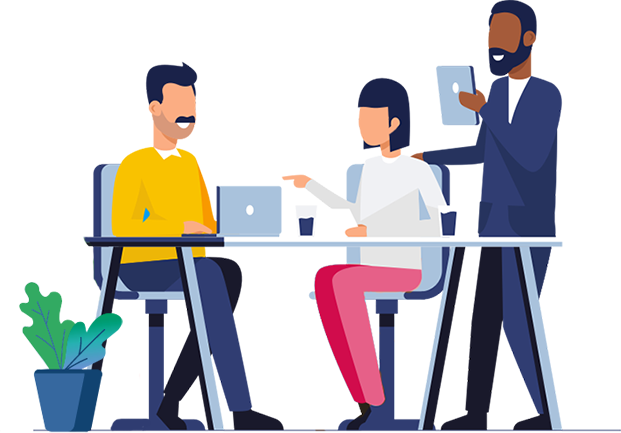 Why Should You Opt for Pentra's real estateSEO services?

We are the best real estate SEO marketing company in town. With  several years of combined expertise providing SEO services to niche businesses such as Real estate, Healthcare, Fintech, Banking, and others. Our clients have seen exponential growth in terms of traffic and conversions since partnering with Pentra SEO services agency.
To be more specific, here are a few considerations why you should use Pentra's real estate SEO services.
Collaborate with the best real estate SEO services agency

Get started now to achieve real growth for your real estate company. Contact our SEO real estate experts to understand how we can assist your real estate business thrive.
FAQs
Real estate SEO is a method of enhancing your online content to attract people through organic search results rather than paid Google Ads.  Content on your website, social media, and mobile applications can all be optimized for search engines. In the initial periods of SEO, optimizing your content meant focusing heavily on key phrases and links as the primary means of ranking. The most important thing now is to create a better user experience that helps meet your users' needs.
Remember that SEO is a long-term strategy, therefore do not expect to see results right away. Instead, consider real estate SEO services as a means to achieve your business objectives both now and in the coming years.
Real estate SEO refers to the optimisation strategies that make your content and website easily accessible online. These strategies, in particular, transform your website into a reliable real estate website, resulting in increased organic traffic from customers and improved search engine rankings.
You'll need SEO experts who specialize in real estate website optimisation because, regardless of how profitable your company is, there are a lot of other things you'll need help with.
For instance, you'll require real estate SEO experts to help you navigate the housing regulations and compliance with NAR advertising policies for digital advertising.
A good real estate SEO team and approach is also important to build stronger relationships with prospects.
Real estate agents are constantly on the lookout for leads, and one way to generate more leads is to rank higher in search engines. SEO is a process whereby real estate agents can increase their website traffic through optimized search engine listings. 
There are a number of reasons why real estate agents should invest in SEO, and here are some key benefits:
More leads

Increased revenue

Positive branding

Reduced competition

Greater visibility

Improved brand image

Increased traffic generation options
You're One Step Away from Hiring the
Best SEO Agency
Talk to one of our experts over a free personalized session and let us know how we can help you out.